Hello! Today I would like to share with you my Youtube channel, where I started to add videos from development of my music game VR Pianist. There will be videos which will show you my progress, what new features have been added and how the gameplay looks like. Also I want to add some flashbacks, where you can see how this VR Piano app looked in time. My new microphone just arrived and I'm looking forward to talk about my game a little bit!
First video – piano in VR – The Entertainer by Scott Joplin
Brief history of VR Pianist development
The development of VR Pianist started in 2018 and since then I have tested a lot of different prototypes and visual styles. The goal was to test if Leap Motion controller is precised enough for creating a VR Piano simulator at first. But I wanted to go further and create a game which could be fun to play.
I have been learning to play the piano for ten years before and my favourite authors were Bedřich Smetana, Johann Sebastian Bach and Yiann Tiersen. I really enjoyed emotional songs, where the feelings were more important than a brilliant technique. My piano teacher was an amazing, kind and elegant woman which really helped me to learn and enjoy playing the piano.
Few years later, I was really happy I could use this experience and combine it with programming, art and design. I created first fuctional demo (which was in May 2019). I liked it very much, people at game conferences which I have visited usually liked it too, but something was still missing. I decided that graphic and game mechanic needs to be improved before the public releasment. So I started to work on that. And it took me almost next two years.
Here you can see the results (well, not the final results – let's say current results). I decided to use black and white stripes in virtual reality. Something, which I have never seen in other games in VR. All textures in the game are or will be manually painted. Each song starts in a virtual room in black and white colors. As you are playing on a virtual piano, your're adding new and new colors to the space and creating more colorful environment. The better you play, the more colors you get. In addition, you do not have only score number and audio feedback, you can see visual feedback, too.
Plans for the future
I think the game looks much more interesting than before and I'm definitelly not at the end of the process yet. The release date is going to be on the 12th of May 2021. I will be happy, if you join me on this creative journey. 
I have a lot of plans and tasks which needs to be completed before the game releasment. One of them is improving existing virtual scenes and adding new ones. The player should follow a story while playing game. He starts to play in a living room, continues in caffee and then gets into a concert hall.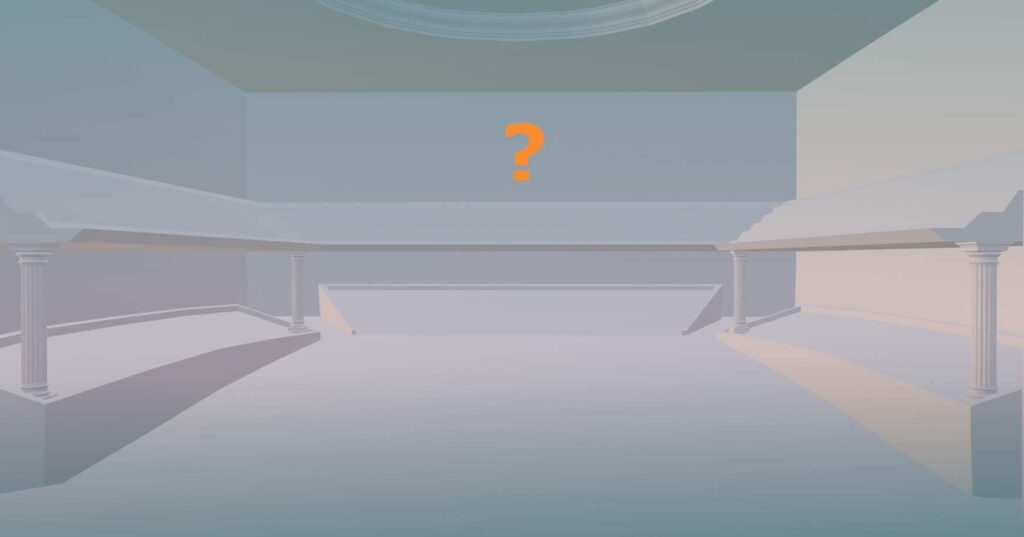 The picture above is a current state of a 3D model which will be used as a concert hall (and which my amazing boyfriend is creating for me!). Imagine – you are in a concert hall, people are everywhere around you…. And you have a beautiful piano song for them… And you will rock!