Hello everyone! In this post, I would like to tell you something more about me and the state of my first game – two months before the releasment. I will be talking about the technology and software which I use for VR development, how I got to the VR technology, what I like about creating games and what I need to finish and implement to my game before the releasment.
More about me as a solo developer
I played games since I was a little girl (especially Diablo II and then Diablo III – it was something like a family tradition) but I don't think I'm a usual kind of a gamer, because I believe that I have alredy spent more time on creating games, graphics, 3D models, pictures and drafts than actually playing games. I love taking photos, drawing, painting, graphics and almost everything visual. I also like to talk with people – so if you have any question or suggestion, please, write me a message or comment. 🙂
I studied Computer Games
I studied Computer Games and Graphics, where I learned how to code, how to work with Unity game engine and create 3D models. Now I have been studying Human Computer Interaction, where we focus mainly on user perspective. During my studies I have created several small games by myself or in groups, a lot of prototypes and started to work with virtual reality. For me, it is a great platform with huge future, so now I focus mainly on VR.
My current project – VR Pianist
Currently, I'm in the development process of a VR game called VR Pianist. It is a music game where you play on a virtual piano according to the visual instructions. I'm using finger tracking and controllers, too. And because I love graphics and visual things so much, I decided to use an original graphic style, I think it is really something new – especially in VR, so I hope you will like it and I look forward to share it in my next videos. This VR Pianist game is the most important project I'm currently working on and should be released in 2 months (12 May 2021) in an early-access state and I plan to release the "full version" at the end of summer 2021.
What I like about creating games
I like creating games because it is something where you can very soon see the results of your hard work – you can make prototypes, test them, and improve them. It is a creative work and you can combine art skills with technical skills and especially as a solo developer, you need to be a "universal" person with a lot of different skills. I have always admired multitalended people and that is something I would like to achieve in the future. So I really enjoy the combination of tasks that you need to do to create fully functional and enjoyable game.
What technology and software do I use?
As I mentioned, I develop mainly for VR platforms these days. I'm a happy owner of HTC Vive and Oculus Quest but I want my game to be accessible to more than just these two types of VR headsets and I'm thinking about mobile version and maybe even PC version, too. So I will constantly update the list of supported platforms (scroll the website down, it is on the left).
I work in Unity game engine – which is a great tool, I highly recommend it. Especially for students and first prototypes and projects, where you have low budget. It has a great support for various platforms, too – personally I have experience with WebGL, mobile platforms, PC and VR headsets including Vive Pro and Mixed Reality. I mentioned that I use hand tracking in my game – for that I have a Leap Motion controller placed directly on the headsets, or some types of headsets, like Oculus Quest, has 'built-in' solution for hand-tracking, which is great.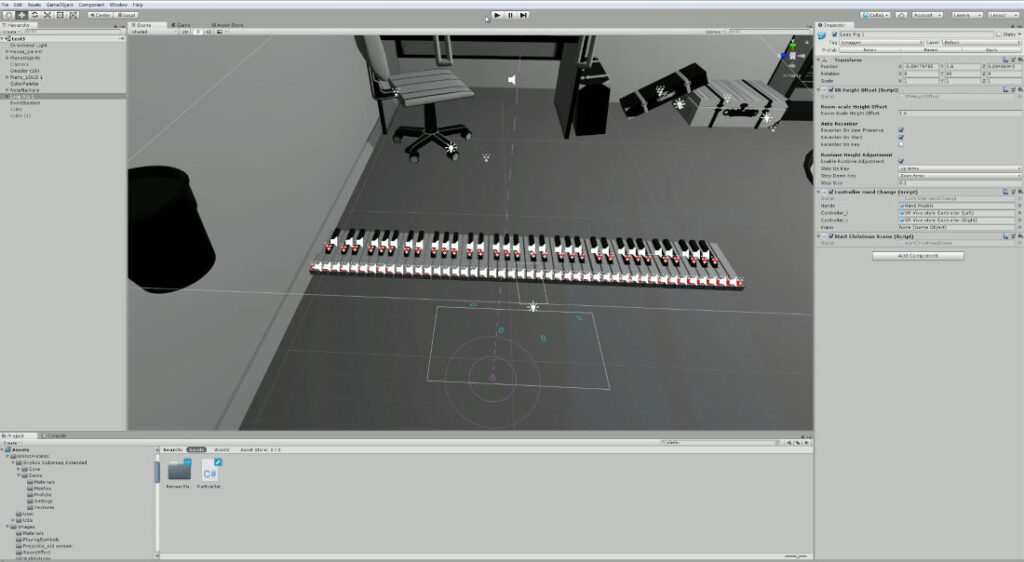 Future plans
My game releasment will be in less two months – to be concrete, on the 12th of May. Till than I need to work and work and work on graphics and platform support. I have started to cooperate with amazing contemporary composers – check their list with the links to their work here. Their music is really beautiful and I look forward to implement it to my game.
I need to learn how to use distribution channels and I also would like to participate on game conferences – I have already been on three game conferences with my game before the pandemic situation – two in Prague and one in Brussels. I enjoyed that very much and got a lot of usefull feedback. I think there is a lot of work in front of me and I will be excited if you will join me on this game path – so don't forget to subsribe and like the video above or follow VR Pianist's Facebook page.
Thank you, and see you next time, when I will talk about the the story behind my game. Bye!